Compare 2018 Toyota Tundra vs Honda Ridgeline
Specs at a Glance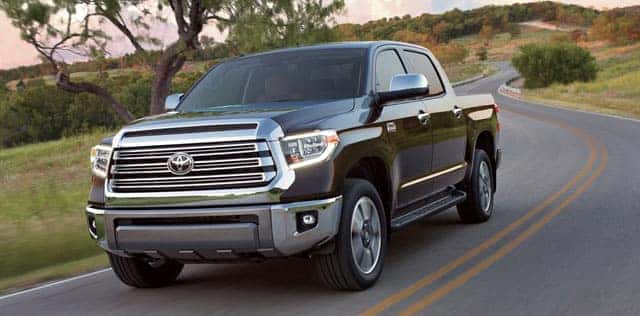 2018 Toyota Tundra
Max. Towing Capcaity
6,800 lbs. *
---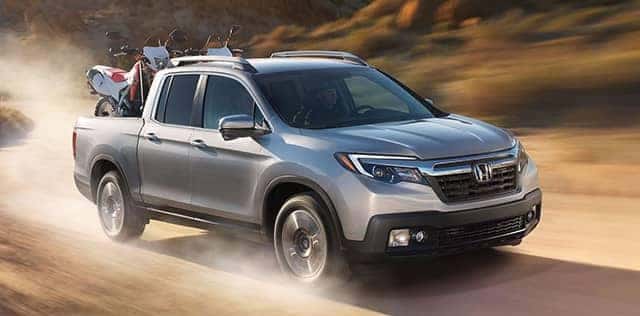 2018 Honda Ridgeline
Max. Towing Capcaity
3,500 lbs.
2018 Toyota Tundra vs 2018 Honda Ridgeline
Serving

Columbus

,

Reynoldsburg

, and

Pickerington, OH
The pickup truck market contains plenty of rugged models, but many consumers also want reliable, comfortable vehicles with good resale value. Two that fit the bill are the 2018 Toyota Tundra and the 2018 Honda Ridgeline. Both offer excellent build quality, and are attractive and capable. Tundra is available with an array of cab designs, bed lengths and engine, whereas the Ridgeline offers only one combination. Test-driving both will convince you that the Tundra outclasses the Ridgeline and is a better value to boot.
Performance
Tundra is equipped with a 4.6-liter V8 outputting 310 horsepower and 327 lb-ft of torque. You can upgrade to a 5.7-liter V8 delivering 381 horsepower and 401 lb-ft. Both engines mate to a six-speed automatic transmission. Tundra is available in 2- and 4-wheel drive configurations. The only engine on the Ridgeline is a 3.5-liter V6 with 280 horsepower and 262 lb-ft, matched with a 6-speed automatic. The Honda is available in forward- and all-wheel drive models.
Dimensions
Tundra is larger than Ridgeline, both inside and out. The Toyota is longer, wider, taller and has a longer wheelbase. It has a gas tank capacity nearly twice that of the Ridgeline's and a tighter turning diameter. Tundra's cabin also dominates, with more leg-, shoulder- and head-room fore and aft. The Toyota has a maximum towing capacity of 10,200 pounds, the Honda maxes out at 5,000 pounds.
Safety Features
Both trucks come with driver, passenger, front head curtain, front side and rear head curtain airbags, but only the Toyota also includes driver- and front-passenger knee airbags. Tundra also comes standards with the Toyota Safety Sense suite of active safety features that includes auto high beams, a pre-collision system with pedestrian detection, radar-guided cruise control and lane-departure alert. Ridgeline offers a similar package, the Honda Sensing suite, but it is an extra-cost option.
We invite you to visit our Toyota dealership to experience the 2018 Toyota Tundra, a civilized yet rugged truck. You'll appreciate our customer service that emphasizes your satisfaction, so stop by today!
---
* Before towing, confirm your vehicle and trailer are compatible, hooked up and loaded properly and that you have any necessary additional equipment. Do not exceed any Weight Ratings and follow all instructions in your Owner's Manual. The maximum you can tow depends on base curb weight plus the total weight of any cargo, occupants, and added vehicle equipment. "Added vehicle equipment" includes additional standard/optional equipment and accessories added by the manufacturer, dealers, and/or vehicle owners. The only way to be certain of your vehicle's exact curb weight is to weigh your vehicle without passengers or cargo.